Most people have heard of "Bitcoin". It was all over the news about a year ago with massive increases in value, which lead some to ponder if Bitcoin would become the currency of the future. Much has happened with Bitcoin in the last year (both positive and negative) and we thought it was time to consider the opportunities of Bitcoin from a Finance Department perspective.
As you all likely know, Bitcoin (BTC) is one of many types of cryptocurrency. Other well known cryptocurrencies include Litecoin (LTC) and Ethereum (ETH). Bitcoin is the oldest and most well-known of the cryptocurrencies. It has been around for almost a decade, but only recently began to experience significant increases in value. This increase lead organizations around the globe to wonder if / how they should take advantage.
1) Should your organization accept Bitcoin?
For most finance departments, there are 3 reasons that they should not rush to accept Bitcoin (or any digital currency):
Low Demand - There is little consumer demand to pay with Bitcoin. This is driven by significant appreciation hopes by those that hold Bitcoin, and high transaction fees.
Perceived Legal Risk - Digital currencies are treated as 'commodities' not currencies. This can lead to difficulties with your legal options in the event of theft.
Increased Administration - The steps required to accept digital currencies are not the same as accepting traditional currencies. While straightforward, it is one more barrier to moving forward. Further, given price fluctuations, (discussed below) you may want to quickly convert from Bitcoin to cash. This is an additional administrative task that likely further discourages adoption.
The result is Bitcoin Acceptance is Low and Getting Lower. I'm not certain at this date what would compel Finance to prioritize its acceptance.
2) Should finance invest in Bitcoin?
The answer for nearly all finance departments is holding significant amounts of Bitcoin today is too risky.
In just the last few years (from Q3 2016) Bitcoin value began growing exponentially. In Q2 2016 a single bitcoin was valued at approximately $590. Approximately six months later in Q1 2017, the value jumped to $1,400, and in Q4 2017 it peaked at $25,000, before falling to today's value of $8,200 (CAD).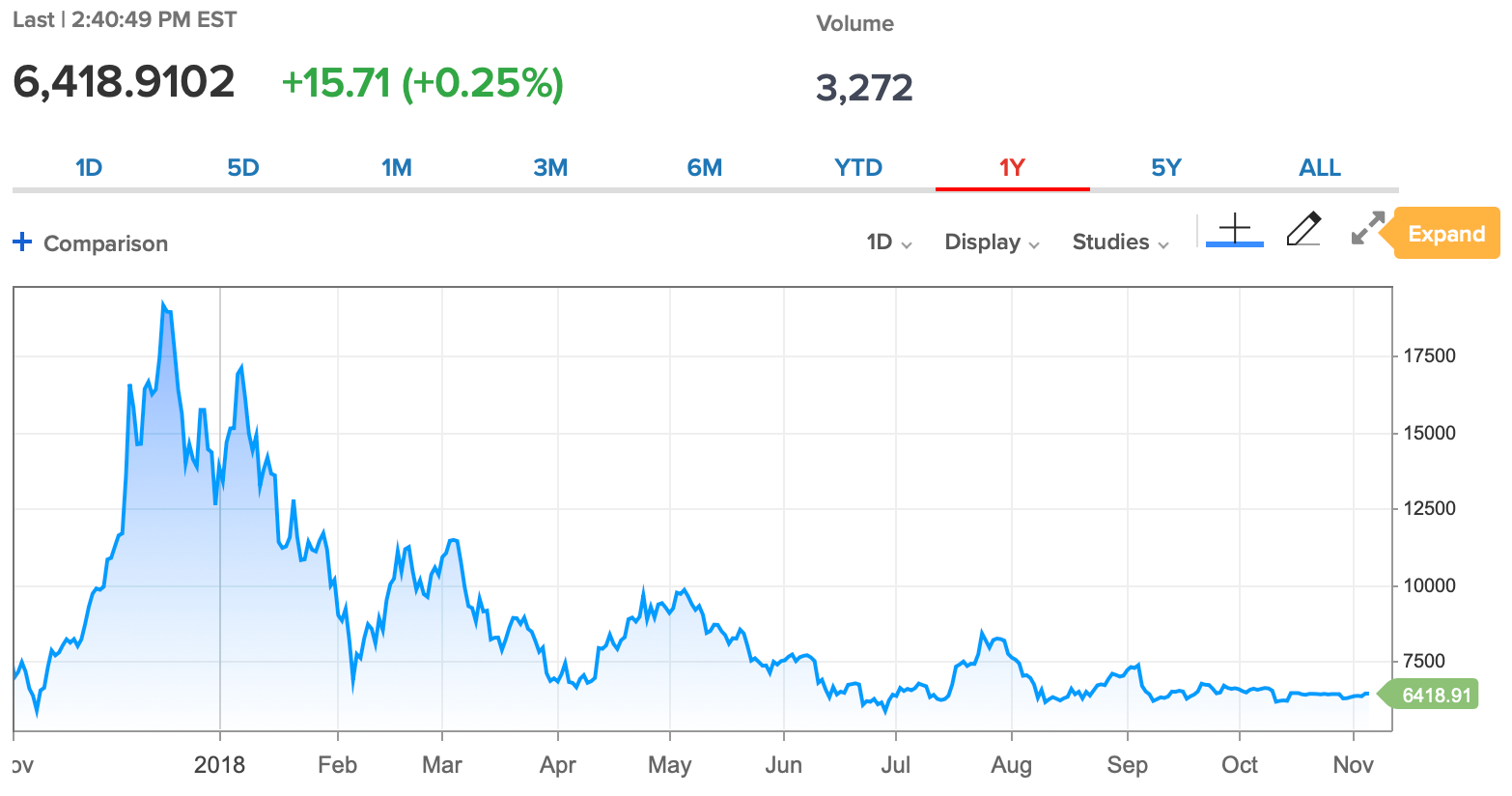 This exponential growth followed by a rapid decline in value highlights the volatility and uncertainty inherent in this modern currency. This volatility likely makes significant holdings by finance in Bitcoin unwise.
Some look to Bitcoin futures to bring Bitcoin into the mainstream financial markets. On the prospect of these futures, JP Morgan set their Bitcoin evaluation to "Bullish" as an investment asset. Some analysts believe that the recent advent of these Bitcoin Futures contributed to the major valuation gains that were seen in late 2017. Largely however, this futures market has been disappointing.
"Institutional players have stayed on the Bitcoin sidelines, and as long as they are, the futures contracts are likely not to generate substantial amounts of volume."


Craig Pirrong, a finance professor at the University of Houston
The future of Bitcoin and its underlying blockchain is definitely something to keep an eye on, but given all the above finance should view Bitcoin like any very risky investment; only invest amounts that you can afford to lose.